I got an iPad3 as a gift from my husband last year. I loved my iPad and I would have wanted to carry it around with me but I would rather not until I found the right case for my iPad. I was so concerned about dropping it. I seem to be dropping things easily these days and I tend to be clumsy at times.
Actually, I have a case for my iPad but I don't feel comfortable with it. It has poor quality, a little bulky and a pain to slide the iPad in and out of it. I feel my iPad does not get the protection that I needed. Besides, I do not find it presentable enough for me to flaunt my iPad around with me.
I would love to have my iPad with me especially when I am travelling that is why I was desperately looking for that perfect case for almost a year. The good news is: I have finally found the case that I have been looking for. I just recently received my Rimu case for my iPad3 from
Maroo
and I really love it. I couldn't be more satisfied with it.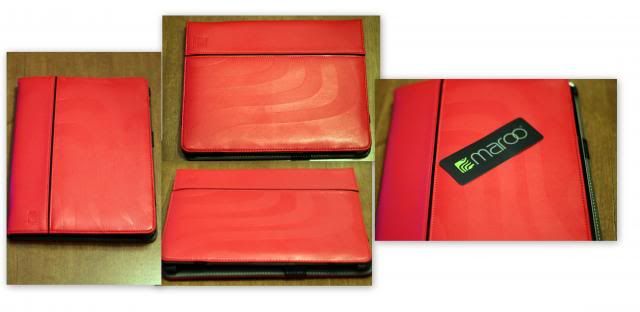 my Rimu case for my iPad3 from Maroo
Maroo has various high quality cases for iPad, iPad mini, smartphones and kindle, in different material, color and design. I chose Rimu because first of all, I love red and I found the perfect red in Rimu with stylish black accents on it. Rimu has everything I could ask for in a case. The material is of high quality genuine leather with a top notch stitching.
It is light, weighing only about 12oz, rugged and very soft. With its TPU material, it is easy to slide your iPad in and out of the case. I think one of the best things about Maroo cases that sets it apart from other cases is its Safe Guard (SG) Bumper technology. It keeps your iPad securely attached thus providing total protection from bumps and drops even when the iPad is in open position.

Maroo's Safe Guard (SG) Bumper Technology
There is also a four-cornered bumper that provides corner protection for your iPad. It is well- designed that no function of your iPad is being obstructed. Even the cutout for the camera function is sufficient.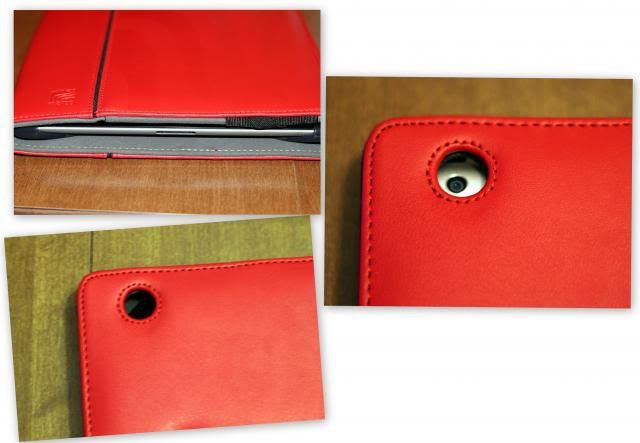 has sufficient camera cutout and no function of the iPad is being obstructed
I also love the magnetic functionality that it provides which automatically shuts off your gadget when the case is close and opens when it is open, which saves your battery when your gadget is not in use.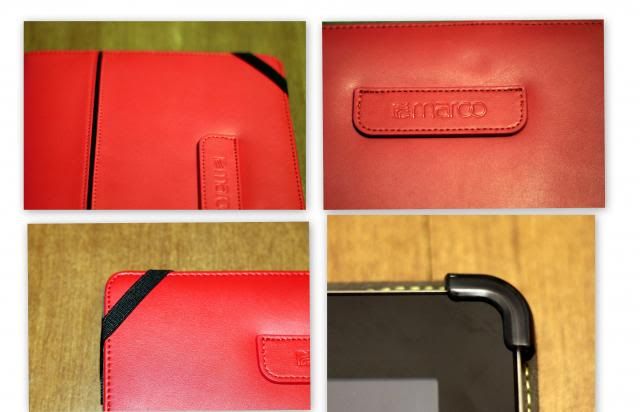 The top cover can be folded back and tucked into a little leather flap to form an easel to display the screen in your choice of two different landscape angles. It can stand on horizontal position on your desk which is for presentations or when you are watching movies. It can also be laid back to rest comfortably on your lap, which is good for typing position. You could also stand it up on its side so its display is in a portrait mode.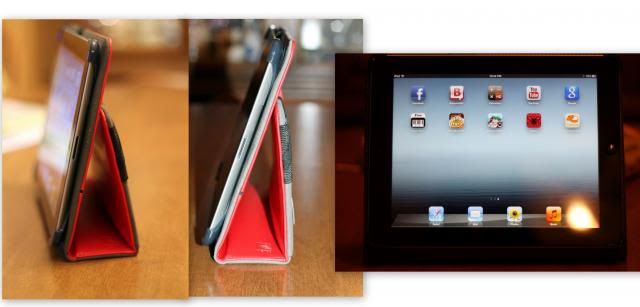 horizontal position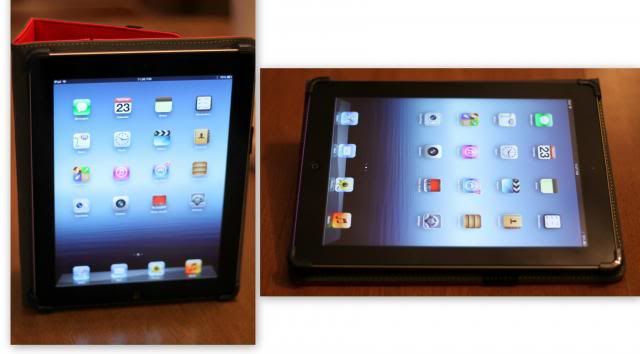 standing in portrait mode (left) or you can rest on your lap which is also good for typing position (right)
There is an elastic strap sewn onto the inside of the front cover that gives you a handy strap to assist you in holding on to the unit while you are walking around. There are also a few little pouches inside the top cover to give you a place to tuck in business cards or note papers.
There's even a little loop that you could use to attach your stylus so it's always handy. It has a strap in each corner that will also help the gadget securely attached to the case. It offers some simple but nice ideas.
Overall, the Rimu case is just an all-around well thought out and excellently designed case. I should have bought one long ago. It is stylish, reasonably priced and really a 'must buy' for those who own an iPad.
For more updates about Maroo products, you can like them at
Facebook
, follow them on
Twitter
, check them out at
Pinterest
or watch their videos in
You Tube
.